Welcome to Grown-ish Wiki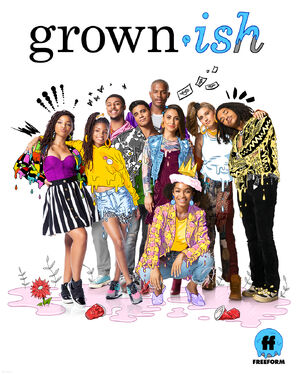 The Johnson family's eldest daughter is taking her first steps into the real world as she heads off to college.
grown-ish
explores the first trappings of adulthood, and Zoey must navigate through the trials and tribulations of these momentous steps. Zoey discovers that once she leaves the nest, things do not always go her way.
grown-ish is now streaming on Hulu.

grown-ish is heading back into session with the grown-ish All Nighter-ish Marathon! Relive some of the most beloved moments from the series, featuring never-before-seen footage and brand new interviews with the cast, on Friday, August 28, starting at 6:00 p.m. EDT/PDT as they each revisit their favorite episode of the series. Filmed in their individual homes, each actor will take fans on a walk down memory lane as they each give viewers a behind-the-scenes look into their favorite episodes from grown-ish.
Seasons
The Characters
Season 3 trailer
NEWS FEED
<rss>https://news.google.com/rss/search?biw=1279&bih=616&q=grown+ish&gbv=2&um=1&ie=UTF-8&hl=en-US&gl=US&ceid=US:en%7Ccharset=UTF-8%7Cshort%7Cdate%7Cmax=7</rss>
grownish-ish wiki is an encyclopedia run and maintained by fans, for fans, and we're dedicated to building a comprehensive and informative resource about all things related to black-ish and its spin-offs mixed-ish and grown-ish.
Wanna share your knowledge?
Sign up
for a free account and start
editing
today!
DISCUSSIONS
TWITTER
Community content is available under
CC-BY-SA
unless otherwise noted.